April 30th, 2006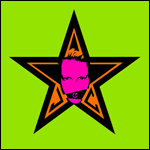 So May 1st is Reboot Day and I'm sure there are going to be plenty of great redesigns around the web, but without even seeing them all yet, Croftie's New Hotness gets my 1st place vote and my supreme jealousy as well. In fact, the redesign is so good that I've vowed never to make fun of Jeff's penchant for pink again.
Normally a blog redesign is not something I'd write an entire post on, but the new jeffcroft.com is pretty special. I don't mean special only in the visual sense, but rather in the paradigm-breaking sense.
Has anyone ever really seen a "live search" that impressed them? Live search, until now, has just been about saving you the trouble of hitting the enter key. But Croftie's live search is a jaw dropper. Start typing in a term like "SXSW" and down slides a panel which shows you not only blog entries which contain that term, but comments, del.icio.us bookmarks, and Flickr photos as well… all separated nicely into columns. I fully expect to start seeing more of this around the web once more people get wind of it.
Another interesting aspect of the new jeffcroft.com is that it's written entirely in Django. This really intrigues me, given that there seems to be a growing groundswell of discriminating bloggers looking for a way to break out of the MT/Wordpress/TextPattern mold in as dramatic a fashion possible. MVC frameworks like Ruby on Rails and Django have been getting a lot of love lately and I'm wondering if CroftieCMS might just be the catalyst for this sort of thing to really take off. I've yet to even dip a single toe into the MVC waters, but developments like these are hard to ignore. Of course, no sooner do I profess my curiosity in Django that The Wolf tells me he has something cooking as well… and it has nothing to do with either Django or Rails. More details as they become available.
Technology and design aside though, the single most impressive aspect of Croftie's new site to me is how comprehensive of an expression platform it is. It's not just about blog entries with all sorts of miscellany decorating the sidebars. It's about all parts of Jeff's life. It's about essays. It's about link collections. It's about photos of Jeff with strange women. Just about the only thing that's not on there yet is his portfolio, and considering how impressive the site itself is, he really doesn't even need one.
Any other noteworthy redesigns around the web today? Feel free to plug them in the comments…